Memorial Hall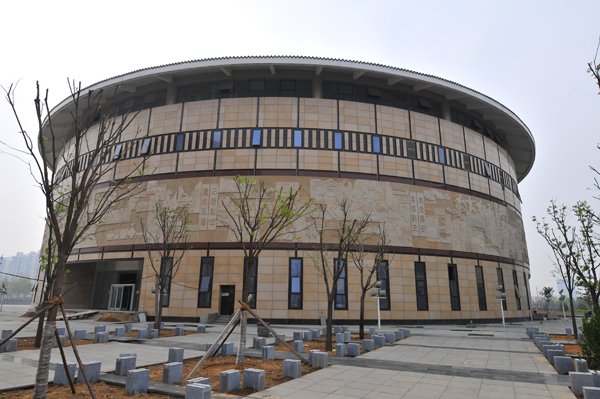 The same root Hall inside the memorial Hall
is a holy place for Hakka children to worship ancestors,
seeking the root, the clan, connection in flesh and blood and tracing
The hall construction area is up to 9148 square meters, the total height is 21.30 meters, total four floors with one floor underground. It can accommodate nearly ten thousands people for ceremony activity. The outer wall is surrounded by a huge carved stone mural with 1000 square meter in area and over 500 tons in weight . It recorded the marvelous historical story of the Hakka ancestors, engraved the story of the significant contribution and eternal achievement for Hakka heroes in the long river of Chinese history, such as Tianxiang Wen, Xiuquan Hong, Zhongshan Sun, De Zhu , Jianying Ye, Moruo Guo, Chengzhi Liao etc,
The first floor is a huge spacious worship hall, in the middle of the upper front is the main sacrifice stage, there is a memorial tablet of Hakka forefathers. On the both sides there are two Han Jues with calligraphy of Chairman Jinsong Li , it inscribed the wordings of" Hakka originated from the region of China, it multiplied all over the land after numerous generations "" The Hakka fame spread to all corners of the world, with the same root and same origin." Apart from all these , there is a more than one hundred thousands of Hakka Celebrity List wrapped around the entire hall . Whenever there is a ceremony celebration, all Hakkas come together to the presence of the ancestors, expressing their heartfelt longing and homesick towards the homeland and native dialect, expressing the respect towards their ancestors, expressing the longing for the bright future, jointly praying for the prosperity and development of their country, praying for the blessing , peace and happiness of the Hakka all over the world.
The chairman of Chinese Nationalist Party Boxiong Wu, moved by the great pioneering of The World Hakka Business Association which achieved the same dream of Hakka all over the world , moved by the gracious invitation from the chairman of Jisong Li, on June 20th 2009, he gladly named and calligraphed the hall as "Same Root Hall", calligraphed the couplets : Remember your origination, memorize the ancestors' virtue , bow to worship the ancestors, respect our old forefathers.