Museum Hall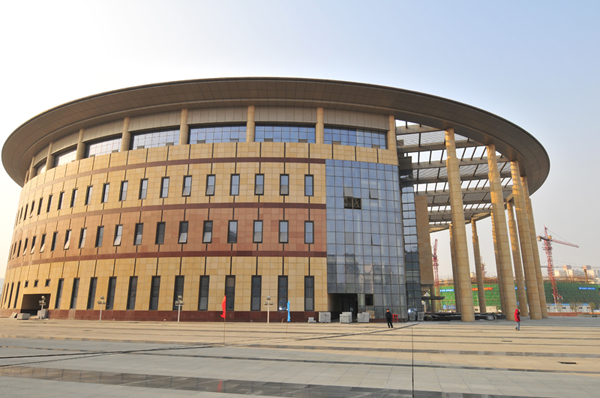 Museum Hall is used for the storage of the cultural relics of Hakka , showing the Hakka traditional cultural customs, social development and the history background of Hakka five times of migration. The total area is up to 37215 square meters, total height is 30 meters, four floors with one floor underground.
The shape of the Museum , the outer is round whereas the inner is rectangular. It is similar to the Hakka outstanding architectural style – Hakka Tulou which inherited the Chinese cultural distinguished style, implied the meaning of Heavenly garden on the earth , highlighted the characteristic of Hakka culture and Chinese culture .There are two huge stone statues located above the entrance of museum, the left one is called "Homeland", the right one is called "Family". The scene of the big hall inside museum , reproduces the culture and elegance of the Hakka village which earned the name of the imperial palace in the folk, reproduces the real scenery of Hakka village inside and outside.
In this place , it shows people where the Hakka come from , and where they are heading for . It shows people the seed of the culture of the Yellow River, spreading to the South, continuing to all corners of the world. It shows you our ancestors, taking care of old and young, travelling across the mountains and the rivers, experiencing all kinds of hardship and difficulty, finally they reached the destination and survived. It shows you the Hakka celebrity with a lasting reputation and those Hakka heroes who earned the distinguished military achievements. In this place, you can taste the joy of the hardship and success of building the career of Hakka immigrants oversees, it shows people an unprecedented unity of Hakka ethenic group in the world.